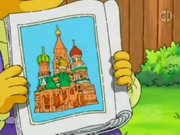 Anastasia's Dream Palace is an extravagant bouncy castle that Muffy wanted for a party. According to Bailey, it is based on St. Basil's Cathedral in Moscow, Russia.
Muffy saw it advertised in a magazine and wanted it for her Spring party. Her father told her there wasn't any room for it so he made a land swap with their neighbour. Unfortunately that gave him Muffy's cherry tree which he cut down. After this the order was cancelled.
Appearances
Arthur
Trivia
Ad blocker interference detected!
Wikia is a free-to-use site that makes money from advertising. We have a modified experience for viewers using ad blockers

Wikia is not accessible if you've made further modifications. Remove the custom ad blocker rule(s) and the page will load as expected.