"Armstrongs' car" is not an official name.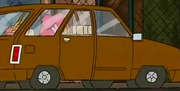 The Armstrongs' car is driven by Mr. Armstrong in "Muffy Goes Metropolitan when Mr. Armstrong, Sue Ellen, and Muffy go to Crown City. The license plate reads "MSC 251". "Wish You Were Here"
Ad blocker interference detected!
Wikia is a free-to-use site that makes money from advertising. We have a modified experience for viewers using ad blockers

Wikia is not accessible if you've made further modifications. Remove the custom ad blocker rule(s) and the page will load as expected.