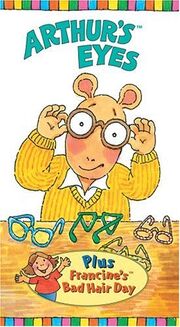 Arthur's Eyes is the VHS version of the Arthur episode Arthur's Eyes. It also features the episode Francine's Bad Hair Day. It was released on March 23, 1997 by Random House Home Video, and then re-released on DVD on June 1, 2004 by Sony Wonder. The DVD contains a bonus episode called "Draw!"
Ad blocker interference detected!
Wikia is a free-to-use site that makes money from advertising. We have a modified experience for viewers using ad blockers

Wikia is not accessible if you've made further modifications. Remove the custom ad blocker rule(s) and the page will load as expected.