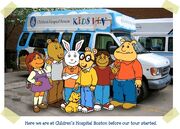 Arthur's Guide to Children's Hospital Boston was an interactive feature of the Boston Children's Hospital's Web site. It was made available in 2005 and taken down in 2013.

This article is a stub. You can help Arthur Wiki by expanding it.
This is a page created by Arthur PBS that shows you a tour of the Boston children's hospital. The characters are mostly characters randomly made for the reports made by Arthur and his pals. Characters included are Arthur's dentist, Mr. Morris, the clown in the carnival in Seasons 1 and 3, and a person in Ms. Morgan''s class. There is a list of things to do, people, and more.
Gallery
External links
Ad blocker interference detected!
Wikia is a free-to-use site that makes money from advertising. We have a modified experience for viewers using ad blockers

Wikia is not accessible if you've made further modifications. Remove the custom ad blocker rule(s) and the page will load as expected.