This article is about the musical. You may be looking for the book.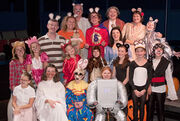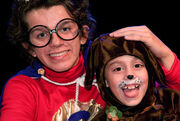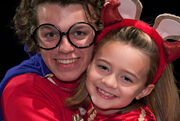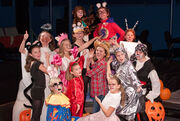 Arthur's Halloween is a 2012 family musical production produced by Little Lake Theatre Company to be performed in their theater in Canonsburg, PA. The musical is based on Arthur's Halloween, an original Arthur book.
The production began on September 16–17, and continues to run at 1:30 PM on both Saturday and Sunday of each week up until October 28–29, its final performances.
Official Description
Who doesn't love Arthur?! He is the very same aardvark who appears in his own animated PBS series and in such Marc Brown books as Arthur's Family Vacation, Arthur's Pet Business and Arthur's New Puppy. Now Arthur comes to our stage in his very own MUSICAL just in time for Halloween! Enjoy the fun as Arthur, Francine, Muff, Binky Barnes and Buster Baxter get ready for the big holiday.
Not only is this musical great fun but it also teaches several valuable lessons: It's okay to be scared sometimes; first impressions may not always be correct; and even the smallest person can be a hero!
Cast and Crew
The music for this production was written by Michael Malthamer and the script and song lyrics were written by Charles Corritore.
Drew Sipos plays Arthur, with Jennifer Kopach, John Herrmann, Madeline Dalesio, Carly DeCock, James Curry, Hunter Briggs, Lake Perun, Christian Jones, Pam Pasternak, Kerry McGrath, Terry Westwood, Mary Randolph, Sarah Curry, Alyssa Brockman, Margo Craig, Shannon Curry, Emma Keaney and Maria Yo all confirmed to have roles.[1]
Raffle
In honor of this production, Little Lake Theatre is sponsoring a raffle to win a drawing of yourself as an Arthur character by Marc Brown. The winner will also receive a copy of Arthur Turns Green, the newest Arthur Adventure book, and Arthur plush toys.
Trivia
According to the above cited Observer Reporter article, Mrs. Sweetwater receives a part in this production.
External links
References
Ad blocker interference detected!
Wikia is a free-to-use site that makes money from advertising. We have a modified experience for viewers using ad blockers

Wikia is not accessible if you've made further modifications. Remove the custom ad blocker rule(s) and the page will load as expected.