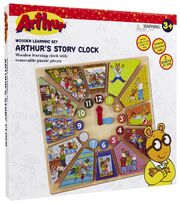 Arthur's Story Clock is a wooden learning set released by Fortune East Group in 2011. The set contains a board with a clock-like appearance. Each number on the board has a phrase relating to that number, with a wooden wedge that can fit on top of it, illustrating the phrase and number.
The pictures for the numbers 3, 7, and 12 were also released as wooden puzzles.
Ad blocker interference detected!
Wikia is a free-to-use site that makes money from advertising. We have a modified experience for viewers using ad blockers

Wikia is not accessible if you've made further modifications. Remove the custom ad blocker rule(s) and the page will load as expected.