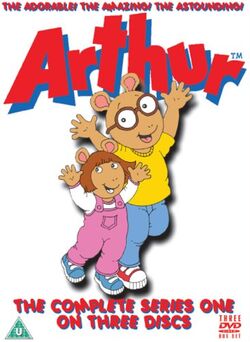 Arthur: The Complete Series One is a 3-disc DVD set available in Europe and released by Delta Leisure Group PLC. It contains all the episodes from season 1 of Arthur. The next collection, Arthur: The Complete Series Two, is actually just the first ten episodes of season 2. While this isn't the last set to contain an entire season, it is the only one to have the right number to it, due to season two being split into two sets and being called two different seasons making their releases of season sets look longer than they really are.
Episodes
Disc 1
Disc 2
Disc 3
External links
Ad blocker interference detected!
Wikia is a free-to-use site that makes money from advertising. We have a modified experience for viewers using ad blockers

Wikia is not accessible if you've made further modifications. Remove the custom ad blocker rule(s) and the page will load as expected.