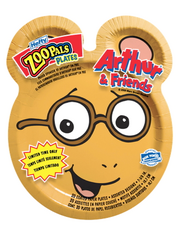 In 2008, Hefty released a set of Arthur Zoo Pals,, which were paper plates based on the generic animal sets of Zoo Pals that were previously made. Zoo Pals are paper plates with three spaces for food, a big one, and two smaller ones. The plates featured the faces of Arthur, D.W., Kate, and Pal.
Plates
External links
Ad blocker interference detected!
Wikia is a free-to-use site that makes money from advertising. We have a modified experience for viewers using ad blockers

Wikia is not accessible if you've made further modifications. Remove the custom ad blocker rule(s) and the page will load as expected.