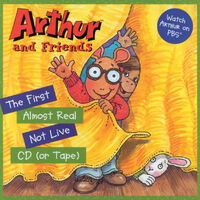 Arthur and Friends: The First Almost Real Not Live CD (or Tape) is the first album of Arthur series. Some songs get aired in some episodes, as in "Arthur's Almost Live Not Real Music Festival", these include "Library Card", "Jekyll and Hyde", "Leftovers Goulash", "Homework", "Crazy Bus" and others, including the theme song Believe in Yourself.
In 2016, a limited edition vinyl run was produced for the 20th Anniversary of Arthur.[citation needed] The edition only included the first 15 songs, excluding "Metalij Ja Mustii" and including "Crazy Bus".
CD Data
Name: Arthur and Friends: The First Almost Real Not Live CD (or Tape)
Released in: 20 October 1998
Recorded in: 6 October 1998
Previous Album: -
Next Album: Arthur's Perfect Christmas (2000)
List of Tracks
"Crazy Bus (No Way!)"
"Crazy Bus (I Said No, D.W.!)"
"Homework"
Trivia
Notes
In tracks 3 and 10, D.W. wants to play her favorite song, Crazy Bus, but only in the final track, 19, it's played.
Some songs have more lyrics than the television versions. These include Believe in Yourself, Jekyll and Hyde, Leftovers Goulash and Homework.
This album is available for download at Amazon mp3 and Rhapsody.
Ad blocker interference detected!
Wikia is a free-to-use site that makes money from advertising. We have a modified experience for viewers using ad blockers

Wikia is not accessible if you've made further modifications. Remove the custom ad blocker rule(s) and the page will load as expected.