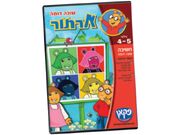 Arthur seems different (Hebrew: ארתור שונה דומה) is an Israeli computer game for children aged 3–5.
A game where your child will learn to identify the differences in shape, size and color. The game sharpens children's ability to distinguish details, and improve their reaction speed. The tutorial includes worksheets to practice in distinguishing details. The games were developed in Israel and adapted to the curricula of the Ministry of education.
External links
Ad blocker interference detected!
Wikia is a free-to-use site that makes money from advertising. We have a modified experience for viewers using ad blockers

Wikia is not accessible if you've made further modifications. Remove the custom ad blocker rule(s) and the page will load as expected.