"Baby Kate's stuffed bunny" is not an official name.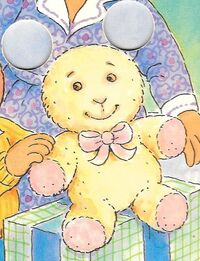 Shortly after her birth, Baby Kate was given a stuffed bunny as a present. The bunny has a pink bow and floppy ears.
Trivia
In Arthur's New Baby Book, the bunny is presented with holes where the ears would be, to allow the reader to stick their fingers through to pretend that they are the floppy ears. The bunny is also seen on the cover of the book, though in that image it has a blue bow.
Appearances
Ad blocker interference detected!
Wikia is a free-to-use site that makes money from advertising. We have a modified experience for viewers using ad blockers

Wikia is not accessible if you've made further modifications. Remove the custom ad blocker rule(s) and the page will load as expected.