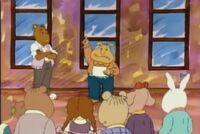 Binky's Poem
is a poem written by
Binky Barnes
in the episode "
I'm a Poet
" for
Fern
's poetry challenge at the
library
. It is literally titled "Binky's Poem".
People think I can't write a poem.
But they are so wrong; I can write a poem.
I wrote this one, I wrote this poem,
And I gave it the title; "Binky's Poem".
So shut up!
The End.

Haiku Version
An alternate version of the poem, with nothing to do with the main one, appears on the PBS Kids website. It is a haiku.
Haiku by Binky Barnes

The sun sets above
And still I hear the sweet sound
of one hand thumping

External links
Ad blocker interference detected!
Wikia is a free-to-use site that makes money from advertising. We have a modified experience for viewers using ad blockers

Wikia is not accessible if you've made further modifications. Remove the custom ad blocker rule(s) and the page will load as expected.