In this game, you get a flag with three parts. You can choose the colors on it, place pictures on it like hobbies and sports, place letters and more. Once you are done creating your flag, you can press the print button or start over.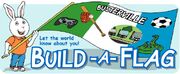 Ad blocker interference detected!
Wikia is a free-to-use site that makes money from advertising. We have a modified experience for viewers using ad blockers

Wikia is not accessible if you've made further modifications. Remove the custom ad blocker rule(s) and the page will load as expected.