Camp Elysium is a camp Muffy goes to in The Last Day.
Description
Brochure
COVER: WELCOME TO CAMP ELYSIUM/PRINTED BY UPPER CRUST INC/CAMP ELYSIUM LTD
INSIDE: Camp Elysium is a full featured modern facility. We strive to provide a uniquely high end experience for those who appreciate the finer things. Our facilities are the best money can buy. We offer equestrian disciplines, aquatic entertainments, sports of all varieties and numerous activities that will provide an […] enriching holiday. Every day at Camp Elysium is a day in paradise. We will provide your child with […] perfect escape and give you […] needed vacation as well.
[…] Director
[…] Graham
Website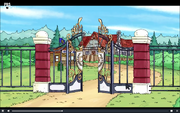 Narrator: At Camp Elysium, the discriminating child will enjoy a well-balanced diet, thrilling sports, the arts, and access to our stable of thoroughbred horses, because every discriminating child should know the rudiments of horse ballet. We hope you'll consider Camp Elysium, a character-building luxury resort completely free of mosquitoes. Children: And it's quite fun.
Quotes
Francine
"How is that even possible?" When questioning the claim of Camp Elysium being mosquito-free.
Muffy
"It's the most amazing place. There are French classes, an indoor swimming pool, a four-star chef, but best of all, there are no mosquitoes!"
Trivia
Elysium (or the Elysian Fields) is a place in Greek mythology, a paradise for dead heroes and an utopia of amusement and joy. This is where the Champs-Élysées in Paris, France got its name.
Lobster, which is a part of Camp Elysium fare, is not kosher. Francine is Jewish, so she would probably have had a difficult time eating at the camp had she went there.
Ad blocker interference detected!
Wikia is a free-to-use site that makes money from advertising. We have a modified experience for viewers using ad blockers

Wikia is not accessible if you've made further modifications. Remove the custom ad blocker rule(s) and the page will load as expected.