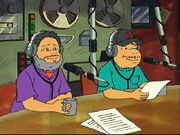 Car Talk is a radio show where listeners ask the hosts of the program for advice on car repair.
Arthur Read called them when the family car was not working. They thought the problem was a baby rattle stuck in the tailpipe, which was correct. "Pick a Car, Any Car"
External links
Ad blocker interference detected!
Wikia is a free-to-use site that makes money from advertising. We have a modified experience for viewers using ad blockers

Wikia is not accessible if you've made further modifications. Remove the custom ad blocker rule(s) and the page will load as expected.