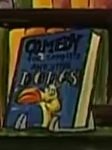 Comedy for Complete and Utter Dodos is a book that Buster imagines in "Don't Ask Muffy," where he goes into Trident Books to find a book about how to be a comedian. Because Buster imagined the book, it is unlikely that it is a real book.
The book's cover is blue, with a picture of a dodo's head underneath the title.
Ad blocker interference detected!
Wikia is a free-to-use site that makes money from advertising. We have a modified experience for viewers using ad blockers

Wikia is not accessible if you've made further modifications. Remove the custom ad blocker rule(s) and the page will load as expected.