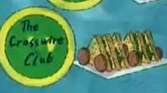 The
Crosswire Club
is a sandwich dish served at the
Sugar Bowl
featured on a sign in "
Bitzi's Break-up
". It is assumed that the dish is named for the Crosswire family. The dish consists of sandwiches filled with lettuce and cheese. A small wheel of meat is added after each sandwich, which gives them the appearance of cars, further suggesting that the dish is named for the Crosswires as
Mr. Crosswire
owns a
popular car company
.
Ad blocker interference detected!
Wikia is a free-to-use site that makes money from advertising. We have a modified experience for viewers using ad blockers

Wikia is not accessible if you've made further modifications. Remove the custom ad blocker rule(s) and the page will load as expected.