"Crosswires' Limousine" is not an official name.

The
Crosswires' Limousine
is a black 4-door limousine driven by
Muffy
's chauffeur,
Bailey
. Its body style is based upon
GM
's 1987-1992
Cadillac Brougham
.
Description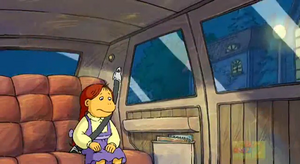 The Crosswires' limousine is black on the exterior and has rectangle headlamps (unlike the other cars), thin vertical rectangle taillights, a hood ornament, a white "C" emblem on the sides, and a license plate that says "MUFFY" but as of Season 16, is "L3M 5N5". The interior is pink and has plush leather seats, power windows, power door locks, a divider, a television system, cabinets, cupholders, and many more luxury features. Its safety features include seat belts, anti-lock brakes, and airbags.
Ad blocker interference detected!
Wikia is a free-to-use site that makes money from advertising. We have a modified experience for viewers using ad blockers

Wikia is not accessible if you've made further modifications. Remove the custom ad blocker rule(s) and the page will load as expected.