This article is about the episode. You may be looking for the book.
"
D.W.'s Library Card
" is the first half of the first episode in the
fourth season
of
Arthur
. It was later adapted into the book
D.W.'s Library Card
.
Summary
When D.W. discovers that she can get her own library card, she rejoices at the world of books waiting for her. (Now if only she could sign her name to get the card in the first place...)[3]
Plot
D.W.
goes to the
library
with her brother
Arthur
and she has to learn how to write her name to get her first library card.
Binky reads a book called Chopin to D.W., but Arthur states she's bothering him, although Binky points out she's not listening to the story. He claims the book is about "Choppin'", a famous karate master, though D.W. knows it's actually about the great classical composer Frédéric Chopin. Arthur then takes D.W.'s hand and walks her away from Binky.
D.W. then picks up a book called Hopalong the Frog, and suggests that Arthur should check it out for her. Arthur then receives the book from D.W., but refuses to check it out, believing that it is a baby book that could go onto his permanent record.
Arthur then imagines himself checking out Hopalong the Frog, but the alarms go off, red lights flash, the speaker says that Arthur is a baby and that the books leveled for his age and older are off limits (metal blocks drop down from the ceiling and onto the bookshelves that have books leveled for Arthur's age and older).
Then Paige Turner would punish Arthur by making him check out baby books only, plus dress him up as a baby by forcing him to wear a bonnet on his head, a pacifier in his mouth, a diaper over his pants, and carry a baby bottle in his hand, and then his friends (especially Francine) would call him a baby, and that a photo of him dressed as a baby would be taken, much to his embarrassment.
Back to reality, Arthur then puts the book back where D.W. found it, and admits that it would be too risky for him to check it out. D.W. then admits that sooner or later, she will have her very own library card and check out whatever book she wants.
D.W. then goes to watch a puppet show hosted by Mr. Ratburn with the other pre-schoolers. After watching the show, D.W. asks Miss Turner when she will be old enough to get a library card, and Miss Turner admits that D.W. is old enough, because she's five years old.
Then the kids argue how many library cards they may have, but Ms. Turner says all of them each may have one library card, but should be able to write their full names, but D.W. doesn't know how to read or write. Tommy and Timmy Tibble say they know how to write, but D.W. began to worry since her full name is long and barely says it. Tommy said that her name is easy to spell and should be glad she doesn't have a name like Aloysius Zimmerplotz.
Arthur and D.W. then walk home from the library, and D.W. says she's going to get the same book, Hopalong the Frog and that Arthur can't do anything about it. Arthur proves that D.W. cannot read, but D.W. says that they have to write their full names to check out books. Arthur says that D.W. cannot write, either, but D.W. says she's going to learn to write.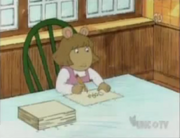 At home, D.W. starts to learn to write by herself. On her first attempt, she writes a mirrored letter D, then crumples up the paper and throws it out.
Then she writes "DoRa" with the letter R capitalized backwards on another piece of paper, and crumpled that and threw it out. She takes another piece of paper, then writes the mirrored letter D, then the tip of the pencil breaks off.
She practices for hours, but all of her attempts fail. Then Arthur walks in, and finds out she wrote "DoBa Minifred ReaBed" with the letter B's capitalized and backwards, and the letter M as a flipped W in "Winifred". D.W. then faints that she cannot write.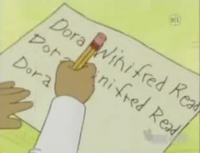 Back at the library, all of the preschoolers are checking out books, but D.W. is still practicing on her handwriting. Her handwriting starts improving, but she hears Tommy and Timmy Tibble taunting about her handwriting skills, and gets them back that she has just learned and spelled it 100 times.
Her mother Jane then tells her she has to get in line with the students to write their names on their first library cards. D.W. writes her name, and Miss Turner accepts it. Then D.W. shows Arthur and Jane her new library card.
D.W. then goes to where she found Hopalong the Frog, but the book is not there anymore. Arthur suggests that the book might be back in one of the shelves it may be sorted in. D.W. then walks over to Miss Turner's desk, and Miss Turner apologizes to D.W. saying it has already been checked out, and could come back next week.
D.W. is surprised, but doesn't believe it could take that long, and loses her patience for the book. Miss Turner says it could come back sooner, but that Saturday is the book's due date. Jane then tells D.W. it's time to go home. D.W. then asks Miss Turner twice if the book was returned, but Miss Turner proves it's still not back yet.
The following days, Miss Turner receives a phone call from the Read Residence, and responds that the book is not back yet, and then hangs up.
While Miss Turner is eating her sandwich, she receives an e-mail from Jane about D.W.'s request, and then responds once again that the book is not back yet, and then D.W. groans.
At night, D.W. starts looking out the living room window, and sees Miss Turner walking on the sidewalk, and Miss Turner then tells D.W. that the book is still not back yet, although neither D.W. nor Miss Turner could hear each other.
At night, D.W. then asks Arthur whether or not Saturday may come, but Arthur says it's about twelve hours away. The next morning, D.W. wakes up Arthur, telling him it's Saturday. Arthur tells D.W. it is 6:30 AM, and that the library is not even open yet. D.W. says they should be the first ones to enter the library, and then hands Arthur a bowl of cereal.
Then Arthur and D.W. enter the library after it opens. D.W. asks Miss Turner that the book should be back already, but Miss Turner suggests it could be late. D.W. threatens to tell Miss Turner to call the police, but Arthur suggests that D.W. could check out another baby book, but them D.W. loses her temper and says she's wants Hopalong the Frog really bad, and says it's not a book for babies.
Arthur walks away from D.W. that he doesn't want to spend the whole Saturday at the library, and D.W. threatens to tell Arthur to go home, and that she will tell Jane he left her all alone at the library.
D.W. then hides behind the bookshelves, and she finds a boy walking up to the desk with a book. D.W. rushes over to the boy with a book, and asks him if it's a book on frogs, and he responds by saying it's called Chippy the Choo-Choo.
D.W. is afraid that Hopalong the Frog might never come back, and then the Tibble twins greet D.W., and she rushes over to them with the book they just checked out a week ago. D.W. thinks they damaged the book, but Miss Turner points out that the book was in that condition before the Tibble twins checked it out, because the book was old.
The Tibble twins point to D.W. that they would never damage a library book, and that D.W.'s library card might be revoked if she does. Then Miss Turner scans the book for D.W. along with her library card, and makes D.W. a promise to take good care of the book.
D.W. then imagines herself getting ready to read the book, but then accidentally tears off the front cover and looks in shock and unfortunately her dream became a nightmare, and after putting the cover back on, the book crumbles up and turns into a cyclone and sends D.W. back to the library.
Back at the library, it is not just a library, but rather a library courtroom with stalactites hanging from the ceiling. An evil Miss Turner then reprimands D.W. about damaging books, and that she may never have a library card anymore, and then stamps D.W.'s library card with a large red X-mark.
D.W. is standing in front of the desk that is at the height of a judge's podium, and the walls are made from bricks instead of smooth textures and the floor is of wood instead of carpeting, and the place itself was a terrible mess.
D.W. complains that she worked so hard to get the library card, and then the Tibble twins walk by with a stack of books and taunt to D.W. that there are more books for them. Then her evil brother Arthur walks by and insults her by telling her that she would never have a library card. Then D.W. falls to her knees and starts to cry that it isn't fair what happened.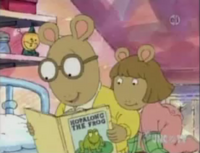 Back at home, D.W. is in her room, still worried about the book's condition. Arthur then walks into her room, and thinks she was bothering him all night to make him read her Hopalong the Frog.
D.W. then hides the book and believes that Arthur has already done enough for her. Then the days pass by from Saturday the 12th until Saturday the 19th. As D.W. is eating her breakfast, Arthur reminds her it is Saturday, and time to return the book, but neither one read the book.
D.W. then rushes back to her room to find the book, only hidden in a box and covered with one of her blankets. D.W. was too afraid to open the book, that it would fall apart and that she might lose her library card, and then asks Arthur to open the book, so he does it for her.
Arthur then finds out he checked out Hopalong the Frog when he was D.W.'s age after he learned to write his name, and then tells D.W. it was the first book he ever checked out and imagines his younger self (before he got glasses) saying it was his first book.
Arthur then admits that Hopalong the Frog is not a baby book, but he really loved the book when he was in preschool, and that it's fun to read to little kids.
Arthur then starts reading the book to D.W., and after reading the whole book, D.W. starts crying, and Arthur says it was a happy story if D.W. liked it or not, and D.W. proves she did like the book and that she is sad she needs to return the book. Arthur points out that it is possible to re-check a book in order to read it as many times as possible.
Then Arthur and D.W. return to the library, and D.W. gets Hopalong the Frog renewed, and then she tells Miss Turner that Arthur is going to read her the book as many times as possible. Arthur then decides he's bored with the book, and admits that D.W. should have returned the book than had it re-checked.
Characters
Major
Minor
Cameo
Trivia
The library cards depicted in this episode feature a book with wings, but "Arthur's Almost Live Not Real Music Festival," the cards included a picture of the cardholder. This may have been to avoid spending time on a scene in which D.W. and the other children had to have their photos taken for their cards. (In reality, library cards in the United States are not typically also photo IDs.)
A scene from this episode is featured in the picture book If All the Animals Came Inside, which was written by Eric Pinder, but illustrated by Marc Brown. In the scene in question, the main character of the book is in his living room with several rhinoceroses, and it states "The rhinos downstairs would be watching TV. They'd stand in the way and leave no more room for me!" The television shows D.W. with Arthur, reading Hopalong the Frog.
Cultural references
When D.W. looks on the same shelf looking for Hop Along the Frog, you can see a book called "Pete Rabbit," obviously referencing "Peter Rabbit"; and a book called "The Life and Times of Marc Brown."
The book D.W. found that was titled The Red Dog is partly a reference to Clifford the Big Red Dog, which itself was adapted as a television series for PBS Kids. It also references an actual book, The Red Wolf (Endangered in America) by Alvin, Virginia and Robert Silverstein, which appears in the "Word From Us Kids" interstitial for this episode.
Episode connections
Errors
While Arthur is wearing his black jacket, his yellow sweater that he usually wears is missing whenever the jacket is seen partially unzipped.
At the beginning when D.W. has the book "The Red Dog" the dog on the cover is mistakenly colored brown instead of red.
Production notes
Home Video
DVD
Gallery
Videos
Promotional images
Screenshots
References