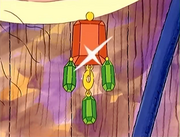 Earrings are a kind of jewellery that are worn on the ear.
Emily and several other young girls started to wear earrings, but had to stop when it caused their ears to turn green. "D.W. Gets Lost"
In the early 20th century, the Countess Bantam owned a set of earrings. Ms. O'Breean unsuccessfully attempted to frame Mary Alice for stealing them. "Fountain Abbey"
Ad blocker interference detected!
Wikia is a free-to-use site that makes money from advertising. We have a modified experience for viewers using ad blockers

Wikia is not accessible if you've made further modifications. Remove the custom ad blocker rule(s) and the page will load as expected.