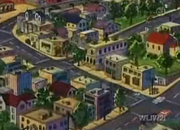 Elwood City
(the founder wanted it to be named
Elmwood City
) is a fictional city located in an unspecified region of the United States. It is the main setting of the
Arthur
television series, books, and related media. It is also the hometown of all major characters. It is nicknamed "City of the Strawberries",
[1]
and even has an annual
Strawberry Festival
.
[2]
It is a prosperous city of 79,567.
[3]
Elwood City's history dates back to the 1800s, when Buffalo Bill passed through the city during his tour of the country performing for locals.[4] The city was officially founded in 1903 by Jacob Katzenellenbogan.[5] The metro area is home to an ample amount of businesses, all of which serve the community and its people.
History
Main article: History of Elwood City
Elwood City was founded in 1903 by
Jacob Katzenellenbogan
although he had originally intended the town to be called "Elmwood" but someone misspelled it and the corrupted name stuck. Elwood city was a lumber town as said by President Roosevelt at the founding and it could also be the reason Katzenellenbogan wanted it to be named Elmwood City. The current U.S. President at the time,
Theodore Roosevelt
, was present at the founding, and gave the dedication speech. Two prominent American businessmen where also there,
Henry Ford
and
J. P. Morgan
, who were partners of Katzenallenbogan. In the episode
On This Spot
, it was said that in 1885, Buffalo Bill's Wild West Show, staring
Buffalo Bill
and
Sitting Bull
came through Elwood City on the banks of
Mill Creek
while on tour. In "
Elwood City Turns 100!
" (which takes place in the year 2003) the city celebrated its 100th anniversary.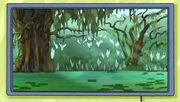 Location
The geographic area of Elwood City consists of mountains to the north, Moose Mountain the south, Bear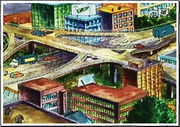 Lake and Button Island to the West, and farmland to the east, although that in ECT100! it is described that it was formerly a swampy area but buildings were built and trees were cut down to form the city it is. From the view of Elwood City in
Fern and the Secret of Moose Mountain
, and the view across from
Bear Lake
, we can tell that Elwood City is in a somewhat mountainous area, probably the Appalachian Mountains.
Much like Springfield from The Simpsons, the exact whereabouts of the city have never been explicitly stated. Arthur's writers have given conflicting evidence regarding Elwood City's actual whereabouts, though it is generally considered to be in the eastern United States. While Elwood City bears strong resemblance to the Boston area (home of WGBH), such as various suburbs in MA there are references to Brown's hometown of Erie, Pennsylvania in some episodes (For instance, Elwood City, like Erie, has a Mill Creek Mall). Various anthropomorphic animals populate the city itself. In some instances animals are shown both in anthropomorphic form as well as realistic animal form. For example, Arthur has a pet dog, Pal, and two friends who are dogs, Binky and Fern.
Other evidence that suggests that Elwood City is located in New England is because it is not a right to work state as suggested by Francine's dad when he said Binky had to be in a union to drive a sanitation truck. More evidence of a New England location, much like suburban Boston, Massachusetts, would be the portrayal of the fictional city's professional baseball team, the Elwood City Grebes, as a fictional representation of the real life Boston Red Sox, referencing baseball lore such as The Curse of the Bambino and vaguely, and the rivalry between the Red Sox and the New York Yankees. The rivalry is parodied by having the Grebes' World Championship (reference to World Series) opponent being the Crown City Kings, with Crown City, a large metropolis over 100 miles away[6] featured in a few episodes, being apparently a representation of New York City, and the Crown City Kings being a representation of the New York Yankees. In one episode, Arthur's family drives to Washington, D.C., only taking a few hours. In Arthur's Birthday, Arthur and his classmates indicate that Elwood City is very far from Ohio, where Arthur's relatives live. In another episode, Arthur and the Brain (Alan) visit the Exploratorium, which is located in San Francisco, though this does not mean that they didn't visit a fictional Exploratorium.
There are, however, various references throughout the series to a Canadian location. In "The Good, the Bad, and the Binky", a five dollar bill given to Binky is blue and a twenty given to him is green (Though that might be a simple cartoonist shortcut to show that it is a different kind of bill), characteristics of Canadian paper money. The show is also recorded in Montreal, Quebec, which also contributes to the possibility of Elwood City being in Canada, and more evidence is how Elwood City's hockey team, the Elwood City Otters, look like the Montreal Canadiens. However, this is refuted by many other factors, such as the Presidents being idealized (Canada has a prime minister), as well as the fact that the leaders bear resemblance to Bill Clinton and George W. Bush, and that D.W (In Episode 5, "D.W. the Copycat") states that they are in America.
The above lends to maybe Arthur's Elwood City is in Delaware or Central PA like Harrisburg, Arthur's family drove to Washington, DC while they Flew to Crown City (while Sue Ellen and Muffy drove). Leading to the conclusion they are closer to Washington, DC than New York City. Elwood City could be referring to a town in Maryland called Hunt Valley because in For Whom the Bell Tolls Francine attempts to call Arthur's House, and the first 3 numbers she presses are 4, 1, and 10. Again, Washington, DC would be a quick weekend trip, while New York City would be someplace you fly to. So, logic dictates Arthur lives in the State of Maryland. Also, Baltimore has an impressive Science Museum, and many schools takes trips there hence the Exploratorium. Also Baltimore City is known for trains (which could be Crown City).
There is also the possibility that Bear Lake is one of the Great Lakes, perhaps a parody of Lake Erie or Lake Ontario. This would place Elwood City about a day's drive from Washington DC.
Places
Businesses
Bowl City appeared in Francine and Katherine, aka Happy Birthday
Mill Creek Mall is the main mall in Elwood City. It has mulitple stores in it, which you can view on Mill Creek Mall's page.
Crosswire Motors: An automobile dealership owned by Muffy's father Ed. Arthur's mother Jane is a work-at-home tax accountant and one of Ed's employees. It is located in Northeast Elwood City.
The Sugar Bowl: A dessert parlor where Arthur and his friends often go out for dessert. It is located in Northeast Elwood City.
Salon de Beauté: A hair salon owned by Flossie, who is also a hairdresser, and the place where Muffy gets her hair done. The name of this place is French for "Beauty Salon", and it often plays French-style music inside. It first appeared in Francine's Bad Hair Day, and has made several more appearances later.
Best Repair Shop: An automobile repair shop owned by a mechanic named Joe. He once attempted to repair the Read family's car in Pick a Car, Any Car.
Jack's Joke Shop: A store that sells prank items, neighbored by the ice cream shop.
Chickin Lickin': a fried chicken restaurant chain. There are locations of this store in Elwood City, but there are most likely more in different cities. There is one store 5 minutes away from The Sugar Bowl, and one in the Mill Creek Mall.[9]
Manny's Diner: a diner owned by Manny. It is located near the city limit of Elwood City, and ismor only seen in "Lost!"
Al's Pet Shop a pet shop that Arthur and his friends often walk past.
Care to Ware formerly named "Elwood City Clothing Exchange", Muffy helped redesign the store in Spoiled Rotten. It donates all of its profits to charity.
Schools
Municipal
Elwood City Dump: The local dump where Francine's father, Oliver, works at. It is where Arthur cut his knee and also where Francine's Dad got the recycled parts to make her bicycle.
Bear Lake: More commonly known as "The Lake" is a lake in Northwest and Southwest Elwood City. Its' name is said on the episode "D.W. All Wet". She is afraid there are octopuses there.
Mill Creek River: A river that is south of the Mill Creek Mall. It also flows down into Bear Lake.
Puffer's Pond: A local pond where the Reads go fishing.
Elwood City Times: A news station where newspapers get published, and the place where Buster's mother, Bitzi, an editor-in-chief, works at.
Residences
Reads' House: A yellow Cape Cod-esque house with a green roof and two dormers where Arthur and his family reside. He has his room to himself in the right dormer, but D.W. and Baby Kate share a room in the left dormer. They also own a pet dog named Pal. Its address is 562 Main Street.
Mr. Ratburn's House: A yellow house with a green roof, a brown front door, a green garage door, and green window shutters. Arthur's third grade teacher, Mr. Ratburn, resides there independently, although it is rarely seen.
Molinas' House: A purple house located right next door to the Read's house. Vicita and her family reside there. They also own a pet dog named Amigo. It was formerly owned by Susy Sipple from the books and early seasons, until the Molina family from Ecuador acquired it shortly after Susy moved out in the Season 6 segment Arthur and Los Vecinos.
Armstrongs' House : A gray house with a front porch with a balcony above it, an orange roof, a yellow front door with orange accents, and a green garage door. Sue Ellen and her parents reside there, and were one of the most recent families that moved to Elwood City.
Walterses' House: A white house with blue accents and a gray roof where Fern and her parents reside.
Lundgrens' House: A white house with brown accents, a gray roof, and a front porch. This is the house where George and his family reside.
Crosswires' Mansion: A lavender and yellow mansion with a bluish-green roof, brown front doors, and a balcony above the front doors. It has twenty rooms, a colossal yard, and a swimming pool. It is the largest residence in Elwood City. Muffy and her family reside there, although her family is very small and she has only one brother: Chip. Their chauffeur and butler, Bailey also lives there.
Westboro Apartments: A campus of apartment complexes owned by landlord Mr. Sanders. Francine and her family reside in Apartment #3 in the red complex. Like D.W. and Kate, Francine and Catherine share a room too. The Frenskys also own a pet cat named Nemo. Another resident named Mrs. Pariso lives in Apartment #4 right next to the Frenskys, after she moved there in Francine Goes to War.
Powerses' House: A yellow house with a reddish-orange roof, two purple front doors, and a purple garage door where the Brain and his parents reside.
Tree House: A private place inside a wooden structure built at the treetops above the tree trunk where Arthur and his friends hang out when doing homework, reading books, and spending time together; often done in peace and away from D.W. and her friends around her age. It is located next to the Mill Creek. The roof caved in from snow, but it was later fixed.[11]
morgan house
Trivia
The episode Elwood City Turns 100! takes place in 2003 although the episode aired in 2002.

Also in the above-mentioned episode, it is revealed that Elwood City has 15 schools.
The Curse of the Grebes takes place in the year 2004/2005, even though the episode aired in 2006. This is probably because the episode was started in 2005.
This means that all episodes take place 1 year ahead of when they aired.
In the episode Buster Baxter and the Letter from the Sea it is revealed that the date is 2012, although the characters have not aged at all in the series.

If Buster was talking about Elwood City in the opening of Binky Rules, then Elwood City is known as "the City of the Strawberries", hence the annual Strawberry Festival.
Panoramic Images
References