"Clean your room!"

This article needs to be improved. Specifically, it needs: A lot of speculation needs to be removed, and the whole page needs to be rewritten from an in-universe perspective..
Help Arthur and edit this page!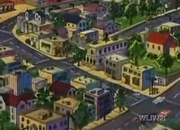 Elwood City
is the main setting of the
Arthur
television series, books, and related media.
It is nicknamed "City of the Strawberries",[2] and even has an annual Strawberry Festival.[3]
Elwood City's history dates back to the 1800s, when Buffalo Bill passed through the city during his tour of the country performing for locals.[4] The city was officially founded in 1903 by Jacob Katzenellenbogan, who wanted it to be named Elmwood City.[5] The metro area is home to an ample amount of businesses, all of which serve the community and its people.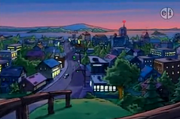 History
Main article: History of Elwood City
Elwood City was founded in 1903 by
Jacob Katzenellenbogan
although he had originally intended the town to be called "Elmwood" but someone misspelled it and the corrupted name stuck. Elwood city was a lumber town as said by President Roosevelt at the founding and it could also be the reason Katzenellenbogan wanted it to be named Elmwood City. The current U.S. President at the time,
Theodore Roosevelt
, was present at the founding, and gave the dedication speech. Two prominent businessmen where also there,
Henry Ford
and
J. P. Morgan
, who were partners of Katzenellenbogan. In the episode
On This Spot
, it was said that in 1885, Buffalo Bill's Wild West Show, staring
Buffalo Bill
and
Sitting Bull
came through Elwood City on the banks of
Mill Creek
while on tour. In "
Elwood City Turns 100!
" (which takes place in the year 2003) the city celebrated its 100th anniversary.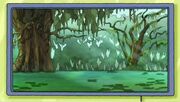 Location
General
The geographic area of Elwood City consists of mountains to the north, Moose Mountain the south, Bear Lake and Button Island to the West, and farmland to the east, although in "Elwood City Turns 100!", it is described that it was formerly a swampy area, but buildings were built and trees were cut down to form the city it is. From the view of Elwood City in "Fernfern and the Secret of Moose Mountain", and the view across from Bear Lake, we can tell that Elwood City is in a somewhat mountainous area. The city is apparently somewhere in the eastern United States/Canada, as it is strongly affected by a hurricane in "Shelter from the Storm."
The exact whereabouts of the city have never been explicitly stated, though it is generally considered to be in eastern North America. Various animals populate the city itself. Some animals in this city are in anthropomorphic form and some are in realistic animal form. For example, Arthur has a pet dog, Pal, and two friends who are dogs, Binky and Fern.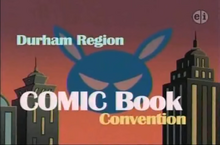 Evidence for American Location
Many places in Elwood City are a reference to locations in the Eastern United States.
The series contains many references to a 

President

, but Canada is headed by a Prime Minister.

In 

Based on a True Story

, 

Ladonna Compson

 states that the drive from Louisiana to Elwood City is 16 hours long. That would mean Elwood City maybe in West Virginia, Virginia, Maryland, New Jersey, southeastern New York State, and possibly southwestern, south central Pennsylvania, if they lived in the Eastern or Northern Louisiana.

Mill Creek Mall is a reference to Millcreek Mall in Pennsylvania, where Marc Brown was raised.
Evidence for Canadian Location
There are various references throughout the series to a Canadian location. 
Oftentimes, Canadian flags can be spotted in the background of Mr. Ratburn's classroom.
In "The Secret Origin of Supernova", the comic book convention is in Durham Region, which is in Southern Ontario.
The map of the Elwood City-Crown city region strongly resembles that of the Canadian city of Montreal, Quebec (both below)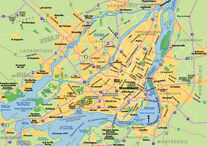 Places
Businesses
Mill Creek Mall is the main mall in Elwood City. It has multiple stores in it, which you can view on Mill Creek Mall's page.
Perske's Kitchen Shop: A shop owned by Mrs. Perske where Arthur's dad bought a cake plate for a wedding he was catering.[7]
Crosswire Motors: An automobile dealership owned by Ed Crosswire. Arthur's mother Jane is a work-at-home tax accountant and one of Ed's employees. It is located in Northeast Elwood City.
Ice Cream Shop: An ice cream shop owned and operated by the Brain's mother, Mrs. Powers.
The Sugar Bowl: A dessert parlor where Arthur and his friends often go out for dessert. It is located in Northeast Elwood City.
Salon de Beauté: A hair salon owned by Flossie, who is also a hairdresser, and the place where Muffy gets her hair done. The name of this place is French for "Beauty Salon", and it often plays French-style music inside. It first appeared in Francine's Bad Hair Day, and has made several more appearances later.
Tastee Cone: An unseen ice cream parlor and retailer where Francine purchased the lamp that involved an ice cream cone, shortly before it went out of business.[8]
Best Repair Shop: An automobile repair shop owned by a mechanic named Joe, who once attempted to repair the Read family's car.[9]
Jack's Joke Shop: A store that sells prank items, neighbored by the ice cream shop.
Meteor Comix: A comic book store where Arthur and D.W. bought their first comic books.
Chickin Lickin': a fried chicken restaurant chain. There are locations of this store in Elwood City, but there are most likely more in different cities. There is one store 5 minutes away from The Sugar Bowl, and one in the Mill Creek Mall.[10]
Elwood City Katzenelenbogan Airport: an airport named after the founder of Elwood City, Jacob Katzenellenbogan.
Manny's Diner: a diner owned by Manny. It is located near the city limit of Elwood City.[11]
Al's Pet Shop: A pet shop that Arthur and his friends often walk past.
Care to Ware: Formerly named "Elwood City Clothing Exchange", Muffy helped redesign the store.[12] It donates all of its profits to charity.
Hover Park: An indoor skydiving-type simulation, where the visitor can emulate riding a hoverboard. It was only in Arthur's dream at the Elwood City Planetarium, therefore not technically counting as a real place.[13]
Schools
Municipal
Elwood City Public Library: Elwood City's municipal public library, that is often confused as Lakewood's school library. The only known and seen librarians are Paige Turner and a Unknown Librarian. It is one street away from the Reads' House.
Elwood City Dump: The local dump where Francine's father, Oliver, works at. It is where Arthur cut his knee and also where Francine's dad got the recycled parts to make her bicycle.
Bear Lake: More commonly known as "The Lake" is a lake in Northwest and Southwest Elwood City. Its' name is said on the episode "D.W. All Wet". She was afraid there were octopuses there.
Mill Creek River: A river that is south of the Mill Creek Mall. It also flows down into Bear Lake.
Puffer's Pond: A local pond where the Reads go fishing.
Elwood City Times: A news station where newspapers get published, and the place where Buster's mother, Bitzi, an editor-in-chief, works at.
Residences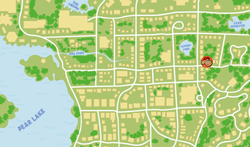 Trivia
Panoramic Images
References