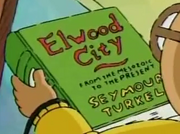 Elwood City: From the Mesozoic to the Present is a fictional book written by Seymour Turkel. It is said that the writing is very thorough and has some amazing stories in it. It is recommended to Arthur by Mr. Ratburn in "On This Spot."
Ad blocker interference detected!
Wikia is a free-to-use site that makes money from advertising. We have a modified experience for viewers using ad blockers

Wikia is not accessible if you've made further modifications. Remove the custom ad blocker rule(s) and the page will load as expected.