The
Elwood City Library
[1]
[2]
or
Elwood City Public Library
[citation needed]
is
Elwood City
's public library. Its first major role was in "
Locked in the Library!
" where
Arthur
and
Francine
got locked in the library after an argument broke out between the two.
Description
The library is an extensive area that hasn't been showcased completely. In some episodes, there is a bike rack on the right side of the building. Right inside the front door is the check out desk where Ms. Paige Turner works. In the front, far left, part of the building is where D.W. and her friends watch to Mr. Ratburn's puppet plays. Farther in to the building directly across from the puppet play area is a group of couches and some computers where Arthur and his friends hang out. In the middle of the structure are tables to read at and stairs up to the second and third floor landings, which are built around the middle area.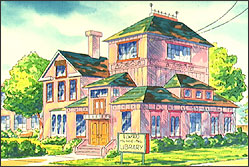 The library is where everybody reads and checks out the latest "
Henry Skreever
" and "
Scare Your Pants Off
" series books. The song "
Library Card
" song takes place in the building, and the librarian is
Ms. Paige Turner
.
You can often find any number of characters at the library, mostly just researching assignments for
Mr. Ratburn
, their teacher.
The exterior is very large yet the library's full interior has not been shown in the series.
In D.W.'s imagination in "D.W.'s Name Game," the entrance to the library is flanked by two stone lion statues of the Tibble Twins. Paige Turner still works there, but the library is filled with books that display scenes of live action historical events when you open them. It is also staffed by the Thesaurus, a tall Tyrannosaurus Rex who has a busy job organzing a large number of words within the library and is knowledgeable about synonyms of words.
Staff
The library staff includes Paige Turner who is in charge, a librarian to check out, check in, and reshelve books, and a librarian that announces when the library is about to close for the day.
References
Ad blocker interference detected!
Wikia is a free-to-use site that makes money from advertising. We have a modified experience for viewers using ad blockers

Wikia is not accessible if you've made further modifications. Remove the custom ad blocker rule(s) and the page will load as expected.