The
Elwood City Public Library
[1]
[2]
or
Elwood City Library
[3]
[4]
is
Elwood City
's public library. Its first major role was in "
Locked in the Library!
" where
Arthur
and
Francine
got locked in the library after an argument broke out between the two.
Description
The library is an extensive area that hasn't been showcased completely. In some episodes, there is a bike rack on the right side of the building. Right inside the front door is the check out desk where Ms. Paige Turner works. In the front, far left, part of the building is where D.W. and her friends watch to Mr. Ratburn's puppet plays. Farther in to the building directly across from the puppet play area is a group of couches and some computers where Arthur and his friends hang out. In the middle of the structure are tables to read at and stairs up to the second and third floor landings, which are built around the middle area.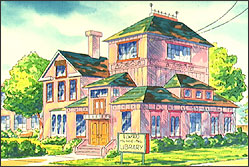 Since
Lakewood Elementary
does not have a library or media center within its own building, you can often find any number of students at the public library, mostly just researching assignments. They also enjoy reading for recreation, including the "
Henry Skreever
" and "
Scare Your Pants Off
" series books.
In addition, there are also zumba lessons. a lecture series, and various book clubs.
In "Sue Ellen & the Last Page", the Elwood City city council was ready to cut funding to the library, due to fewer patrons checking out books. This prompted library staff to hold a final book sale. The decision was reversed after Sue Ellen's efforts to show the importance of the library to the community. Thanks to the Crosswires, who were able to provide additional funding, there is now a new computer room called "Crosswire Motors Computer Oasis".
In D.W.'s imagination in "D.W.'s Name Game," the entrance to the library is flanked by two stone lion statues of the Tibble Twins. Paige Turner still works there, but the library is filled with books that display scenes of live action historical events when you open them. It is also staffed by the Thesaurus, a tall Tyrannosaurus Rex who has a busy job organizing a large number of words within the library and is knowledgeable about synonyms of words.
Staff
The library staff includes Paige Turner who is in charge, a librarian to check out, check in, and reshelve books, and a librarian that announces when the library is about to close for the day.
Trivia
References