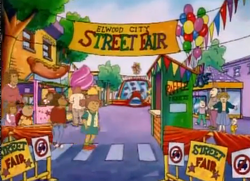 The Elwood City Street Fair is a street fair event which was held during the episode "Double Tibble Trouble". It was set up on the same street as Trident Books. D.W. and Emily took Tommy there with the hopes that he would forget about playing with Timmy and feel happier. It had a good turnout, with many of Arthur's classmates and D.W.'s preschool friends showing up.
Things To Do
There were many concession stands, including ones for hot dogs, pizza, and ice cream. At the back of the fair was a large, transparent moon bounce shaped like a ladybug, which D.W., Emily, and Tommy jumped in. The three friends also visited a House of Mirrors. A booth marked "Raffle" appeared, though it was not visited in the episode.
Ad blocker interference detected!
Wikia is a free-to-use site that makes money from advertising. We have a modified experience for viewers using ad blockers

Wikia is not accessible if you've made further modifications. Remove the custom ad blocker rule(s) and the page will load as expected.