Francis Haney
[2]
[3]
(formerly
Herb Haney
[4]
[5]
) is the former principal of
Lakewood Elementary
. He oversees everything happening in the school, whether it be school events, bad behavior from pupils, school renovations, etc. Besides being the principal, he is very active in the community of
Elwood City
, and often takes part in managing or competing in public events, especially if they are sponsored by the school. He leaves Elwood City in
Season 20
to fulfill his dream of building a school in Tanzania in Africa, being temporarily replaced by
Ms. Tingley
.
[6]
In the first few seasons of the show, there was a running gag with Mr. Haney. He'd randomly appear with a toy or a balloon, or he'd have bad luck for no apparent reason. He would get hit by things such as burgers on the face or get knocked off of his bed by the Tooth Fairy. Most of this was due to simply being at the wrong place at the wrong time. Everybody would respond by saying, "Sorry, Sir". His luck has improved in later seasons, though. He also has a niece and nephew who appear in "The Return of the King" who are tutored by Mr. Ratburn's former 3rd Grade teacher, Mr. Pryce-Jones. He is also a tax customer of one of his pupil's, Arthur Read's, mother, as revealed in "Arthur's Mystery Envelope" when he gives Arthur an envelope filled with tax documents. Arthur at first thinks that it contains information regarding him, but later finds out it does not.
Appearance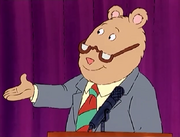 Mr. Haney is a bear with a light grey fur. He is often seen wearing a light blue jacket suit over a white shirt and a red and blue striped tie. He also wears dark blue pants with brown loafers and brown framed glasses. He is one of the few characters in the series depicted with fur, as opposed to a complexion like most of the characters that have human-like skin tones.
In the Arthur books, Mr. Haney is usually depicted wearing a green suit rather than a blue one. However, during Season 16 through 19 of Arthur, Mr. Haney started wearing a green suit on the show as well. In the few appearances he makes beginning with Season 20, he is back in his blue suit.
Personality
Mr. Haney is a kind character who cares deeply about the well-being of his students, but will deal a stern stance if they do anything to disrupt the day for their class or their teachers. He also can be a bit clueless, having been talked out of giving a punishment by students like Binky Barnes, though this happens only on rare occasions. He tends to be rather clumsy and becomes distracted or confused easily. He has dyslexia.
Appearances
Specials
Season 1
Season 2
Season 3
Season 5
Season 6
Season 7
Season 8
Season 9
Season 10
Season 11
Season 12
Season 13
Season 14
Season 15
Season 16
Season 17
Season 19
Season 20
Season 21
Trivia
Gallery
Main article: Francis Haney/Gallery
References