This article is about the guest star. You may be looking for the character.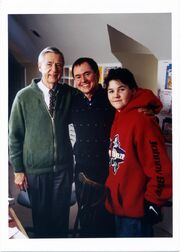 Frederick McFeely "Fred" Rogers (March 20, 1928 – February 27, 2003) was an American educator, Presbyterian minister, songwriter, author, and television host, best known for creating and hosting Mister Rogers' Neighborhood (1968–2001), which featured his gentle, soft-spoken personality and directness to his audiences.
On Arthur
Rogers voiced a character modeled after himself in the eponymous season 2 episode "Arthur Meets Mister Rogers." He appeared in live-action in the following "And Now a Word from Us Kids" segment to talk about how the cartoon was made.
Arthur and the Perfect Brother is dedicated to Rogers.
"Go Stop Go"
In the Mister Rogers' Neighborhood Season 29 episode "Go Stop Go," Rogers visited Marc Brown to see how a cartoon is animated and Arthur himself visited the Neighborhood of Make-Believe in puppet form (voiced by Michael Yarmush).
Gallery