Galileo
was an
Italian
inventor and scientist.
Biography
In 1609, Galileo built the first astronomical telescope. He had his own theory of the solar system.[1]
Galileo lived during the Renaissance and discovered multiple moons of Jupiter.[2][3]
Galileo dropped hundreds of lead balls from the top of the Leaning Tower of Pisa, observing that different sizes land at the same time.[4]
Legacy
In honor of Galileo's birthday, Mr. Ratburn's class had a party.[1]
Galileo is portrayed in the film The Virtues of Science!.[4]
In imagination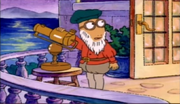 Arthur imagined that Galileo's father limited his scientific work when he was a child due to enforcing a bedtime.[2]
Appearances
Arthur
External links
References