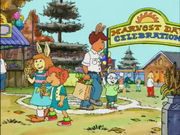 The Harvest Day Celebration is a fall festival held on the Lakewood Elementary grounds. It is open to both Lakewood students and other residents of Elwood City. It only appeared once, in "Arthur's Number Nightmare". In the episode, the festival had a "Fall Foods" theme, so when Francine was to give a speech to the student body, she had to dress up as a giant pumpkin. Arthur and his friends intercepted a seating chart for a particular Harvest Day event in the episode, and believed it was their class rank until Mr. Haney revealed the truth.
Things to Do
There are various stands selling fruits and vegetables, as well as long tables of food for the students to eat. In "Arthur's Number Nightmare", Prunella ran a booth where if you could correctly guess the number of chestnuts in a jar, you would win a free Harvest Day T-shirt. Buster, still convinced that eleven was his lucky number, made that his guess. Brain gave away free candy apples in this episode as well. There is also a large stage, where speeches relating to the theme of Harvest Day are made.
Ad blocker interference detected!
Wikia is a free-to-use site that makes money from advertising. We have a modified experience for viewers using ad blockers

Wikia is not accessible if you've made further modifications. Remove the custom ad blocker rule(s) and the page will load as expected.