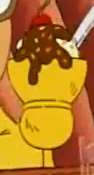 Ice Cream is a popular dish at the Sugar Bowl. It comes in both cups and cones, as well as with sundae toppings. This makes it competition for the Ice Cream Shop, though Brain still eats at the Sugar Bowl with his friends. However, the ice cream shop is known for having more exotic flavors. Some well known ice cream dishes, which are more elaborate than the average scoop, are the Big Pig and Banana Boat.
Possible Flavors
Sugar Bowl ice cream has appeared in multiple colors, so the following is a list of possible flavors based on that.
Appearances
(unfinished, please continue)
Ad blocker interference detected!
Wikia is a free-to-use site that makes money from advertising. We have a modified experience for viewers using ad blockers

Wikia is not accessible if you've made further modifications. Remove the custom ad blocker rule(s) and the page will load as expected.