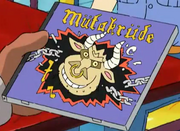 Mütakrüde is a heavy metal band that Molly listens to. It has been mentioned in multiple episodes.
History
The Tough Customers listened to the band's new album in "The Law of the Jungle Gym". Molly suggests that Brain should play their latest album "Shinsplitz" in the ice cream shop in "Breezy Listening Blues". The CD was not in stores yet, but she received the CD from her friend's cousin who knows the ex-drummer. In "The Agent of Change", Agent Double X listens to Mütakrüde as well.
Trivia
Cultural references
Its name is a reference to glam metal band Mötley Crüe, but its logo resembles that of speed metal band Motörhead!
Ad blocker interference detected!
Wikia is a free-to-use site that makes money from advertising. We have a modified experience for viewers using ad blockers

Wikia is not accessible if you've made further modifications. Remove the custom ad blocker rule(s) and the page will load as expected.