This article is about the show. You may be looking for the character.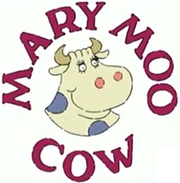 Mary Moo Cow is a show about an anthropomorphic cow (played by Patty Jones) who entertains children in her barnhouse. She often plays with little kids who help her to teach basic lessons to children like D.W., often adding musical numbers and playing games while she does it. It airs on TV 12 at 3:30PM.
D.W. is arguably Mary Moo Cow's biggest fan, the show being one of her main obsessions. She never misses it and if she does will freak out in front of everyone. She owns all of its merchandise and even has some of Mary Moo Cow's videos. However, her brother Arthur does not like the show, thinking it to be a "baby show" that always repeats the same lessons over and over again. Thus, he often fights over the T.V. so he can watch what he likes and not that.
Mary Moo Cow was cancelled in "The Last of Mary Moo Cow", during which its final episode aired. D.W. became severely depressed by this and after seeing how a petition works on T.V., sent in her own petition to get the show back on, with her friends signing it.
Mary Moo Cow did eventually return to T.V., but ended up getting Dark Bunny (the sequel to Bionic Bunny) cancelled in the process, much to Arthur's annoyance. However, both shows appear to be on the air once again with no noticeable problem. D.W. still watches the show and its host obsessively.
In "Dear Adil", Adil found a Turkish Mary Moo Cow CD for D.W. and sent it to her.
In an alternate future in "D.W. and the Beastly Birthday," a several years older D.W. states that Mary Moo Cow was a "baby show," but that it had "a lot of adult references" in it.
List of Characters Known To Watch it
Mary Moo Cow Production Team
The ending credits of Mary Moo Cow are shown for approximately 3 seconds in "That's a Baby Show!". Some of the names, such as "Richard Nixon" (a former U.S. President known for corruption), are obvious jokes, while others are references to actual Arthur show staff. For example, Enguan Xu was an early production coordinator for the series, while "Alex Tankushev" is likely a reference to Ivan Tankushev, who served as both an animation director and layout supervisor for the series.
Michel Simard
David Bailey
Shayne Gryn
Philippe St-Onye
Ethan Layue
Peter Huggan 
Keith Seggie
Paulo Gougeon
Lucie Faniel
Monica Lanylois
Karen Wolf
Richard Nixon
Tanis Flemons
Daphne Doggie
Enguan Xu
Joey Vekteris
Maude Fonteau
Gabriel Houle
Alex Tankushev
Sandrine Marceau
Ingrid David
Wayne Millet
Joseph Zamboni
Songs
Main
Mary Moo Cow, Mary Moo Cow,
We love you, Mary Moo,
When you're with the Moo Cow,
Every day is new—wow!
We love you, Mary Moo.

F-U-N
The best word I know is F-U-N,
F-U-N spells fun!
Fun is nice, fun is great!
I like F-U-N!
F-U-N!
F-U-N!
Let's spell it again!
F-U-N!
F-U-N!
F-U-N spells--
(song is interrupted by Arthur)

Soup
We like soup, soup is great!
You eat it in a bowl, not on a plate!

Last
L-A-S-T That's for last!
(rest of song is unknown)
Arthur and Buster
L-A-S-T stands for last! no more Mary Moo Cow!

Three
Three, three, three is fun,
It's more than one or two... 
(the rest of the song is unknown)

Count up to one
Sung in "Two Minutes"
These two songs did not appear in Mary Moo Cow, but were sung by her in D.W.'s fantasy in "The Last of Mary Moo Cow"
Oh, D.W.
Mary
Oh, D.W., oh, D.W.,
I love you...
D.W.
...really, Moo?
Mary
There is no one smarter...
D.W.
Yeah, tell that to Arthur!
Mary
Arthur? Blegh!
I love you...
D.W. and Mary
...toodle-loo!

A Petition
Mary
A petition, here is a petition.
Spell petition...
Kids
P-E-T-I...something something something.
Now we can get out of here!
Mary
D.W., you've brought us cheer!
P-E-T!
Kids
Something something something!
Mary
P-E-T!
Kids
Something something something!
Mary and Kids
Ohhhhhh!

And these two songs appear in "Cast Away"
F-U-N (Complete Version)
The best word I know is F-U-N, 

F-U-N Spells Fun! 

Fun is nice, fun is great! 

I Like F-U-N 

F-U-N 

F-U-N 

Let's spell it again! 

F-U-N 

F-U-N 

F-U-N Spells Fun, 
 
Let's Spell Again!

Main (Sung by Fishermen)
Mary Moo Cow, Mary Moo Cow,

I love you, Yes I do! 

(rest unknown)

Trivia
References
Ad blocker interference detected!
Wikia is a free-to-use site that makes money from advertising. We have a modified experience for viewers using ad blockers

Wikia is not accessible if you've made further modifications. Remove the custom ad blocker rule(s) and the page will load as expected.