This article is about the episode. You may be looking for the song or the VHS.
"Meet Me at the Fair" is the first episode in the first season of Postcards from Buster.
Summary
Buster goes to a farm and learns the major chores Lauren and Nathan have to do every day which include feeding the cows, taking out the garbage, and cleaning the house. He also learns that some of them include riding horses, driving forklift tractors, and showing their pigs off when the County Fair is in town.
Plot

This article's missing a plot section. You can help by adding one!
Characters
Major
Minor
Mentioned
Trivia
Episode connections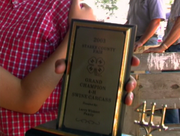 Errors
Production notes
Songs
Gallery
Home video
DVD:
VHS:
References
Ad blocker interference detected!
Wikia is a free-to-use site that makes money from advertising. We have a modified experience for viewers using ad blockers

Wikia is not accessible if you've made further modifications. Remove the custom ad blocker rule(s) and the page will load as expected.