Mr. Morgan is the father of Jenna Morgan.
Biography
He and his wife attended their daughter's Athlete-of-the-Year award ceremony. Mr. Morgan also encouraged Jenna to attend a slumber party, reasoning that she will grow out of bedwetting as he himself had.
Physical appearance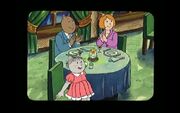 This article's missing a physical appearance section. You can help by adding one!
Personality
He understands Jenna's bedwetting problem because he used to wet the bed when he was a kid.
Appearances
Arthur
Gallery