Muffy's dog is a white poodle owned by Muffy.
Biography
Mr. Crosswire tested if the dog was what Muffy was allergic to, which it was not.
The dog admires Bailey, so when the dog refused to try a new brand of dog food, they had Bailey try some, after which they dog was willing to try it.[2]
During Buster's song, Muffy was playing with the poodle when he bit her "on the noodle" and she hit her head on the bed.
Trivia
Appearances
Arthur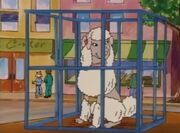 References