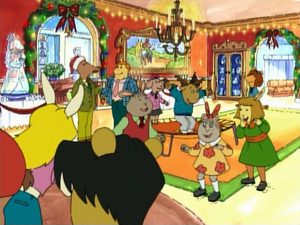 At Christmas, Muffy Crosswire held a Christmas party known as her "holiday extravaganza"[1] at the Crosswire Mansion. The party featured massive lead-up that included Muffy dressing up as the "princess of Christmas" and announcing for anyone that would listen that the party was coming.
The party was truly a spectacle. Muffy booked the band The Squabs, who performed their hit song, "Boogie Woogie Christmas." There was a trampoline to jump on, a pin-the-tail-on-the-reindeer game, and a wide selection of holiday snacks and drinks. The party was attended by almost all of Muffy's friends, classmates and family, even her teacher, Mr. Ratburn. During the party, Muffy, announced by heralds with trumpets, again presenting herself as the "princess of Christmas," handed out presents to her guests.
Though the party seemed largely a success, Muffy was highly bothered by the fact that her best friend, Francine Frensky, did not attend. Francine had told her 28 times that she couldn't come to her party because she was celebrating Hanukkah with her family. Muffy was offended that Francine would consider Hanukkah more important than her Christmas party, but later came to understand after Francine invited her to her place and showed her their traditions.
While most had fun at the party, Arthur Read was distracted by the fact that there was no snow outside, while Buster Baxter was tired from having been constantly woken up in the lead-up to Christmas by his mother, Bitzi, though Brain suggested he create his own holiday known as "Baxter Day."
References