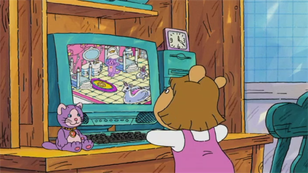 NetKittenz are stuffed cats as well as interactive pets, online and offline. They are a play on Webkinz, a popular toy. They can also be a parody of the former Bearville.
Emily and D.W. both have one of these virtual pets, with the names Tickley and Prince Shiny. Arthur says that every kid he knows that are D.W.'s age are obsessed with the toys.
Netkittens are extensively customizable, judging from the local Grebes accessories that Mr. Ratburn and Arthur were able to buy for D.W.'s Netkitten.
Ad blocker interference detected!
Wikia is a free-to-use site that makes money from advertising. We have a modified experience for viewers using ad blockers

Wikia is not accessible if you've made further modifications. Remove the custom ad blocker rule(s) and the page will load as expected.