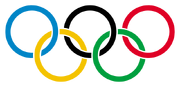 The Olympic Games
is a major sports event, where thousands of Athletes come from all around the world to a city or country to compete. There three type of Olympics there is the original games, the Paralympics, and the youth Olympics. Each set of games is played in either during the summer or winter. The original Olympics was played in Olympia, Greece, and the athletes played in honour of the Greek god Zeus. Today, the Olympics are held by different cities in different countries that are chosen by vote bi-annually to hold the games. In the opening ceremonies they light the Olympic flame, then the sport events take place over a month or less, and it ends with the closing ceremonies.
The Arthur series mentions the Olympics many times, including the episodes Francine Frensky, Olympic Rider, World Girls, Team Trouble, Francine Goes to War, The Good Sport, D.W. Flips and The Tardy Tumbler.
Events
Baseball
Softball
Judo
Wrestling
Diving
Swimming
Synchronise Swimming
Water Polo
Basketball
Soccer/ Football
Canoe
BMX
Mountain Biking
Road Cycling
Track Cycling
Gymnastics
Volleyball
Equestrian
Archery
Tennis
Badminton
Boxing
Shooting
Rowing
Sailing
Handball
Table Tennis
Triathlon
Weightlifting
Fencing
Figure Skating
Speed Skating
Hockey
Curling
Cross Country Sking
Alpine Sking
Sky Jumping
Nordic Combined
Freestyle Sking
Snowboarding
Biathlon
Luge
Bobsleding
Skeleton
Olympic Atheletes Seen or Mentioned on Arthur
Ad blocker interference detected!
Wikia is a free-to-use site that makes money from advertising. We have a modified experience for viewers using ad blockers

Wikia is not accessible if you've made further modifications. Remove the custom ad blocker rule(s) and the page will load as expected.