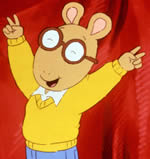 The PBS Kids Vote-A-Rama was a PBS project designed to get kids interested in the voting process. Fans logged onto the PBS Kids website, where they could view video clips for a number of Arthur episodes and then vote for which ones they thought were the best. The winning episodes aired as a two-hour mini-marathon on Labor Day 2002, alongside the new kids program Liberty's Kids. Between episodes, Buster was featured, and he interviewed Aaron Carter.
Original Air Date: September 2, 2002
Top Three
The top three were shown on the PBS Kids Vote-A-Rama.
External links
Ad blocker interference detected!
Wikia is a free-to-use site that makes money from advertising. We have a modified experience for viewers using ad blockers

Wikia is not accessible if you've made further modifications. Remove the custom ad blocker rule(s) and the page will load as expected.