Philip Seymour Hoffman (July 23, 1967 – February 2, 2014) was an American actor, producer and director. Although primarily a supporting player, Hoffman was known as a versatile performer who brought depth and humanity to all of his roles. He was prolific in both film and theater from the early 1990s to his death from a heroin overdose in 2014, when the New York Times declared him as "perhaps the most ambitious and widely admired American actor of his generation".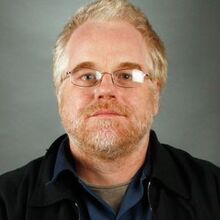 See also
External links
Ad blocker interference detected!
Wikia is a free-to-use site that makes money from advertising. We have a modified experience for viewers using ad blockers

Wikia is not accessible if you've made further modifications. Remove the custom ad blocker rule(s) and the page will load as expected.