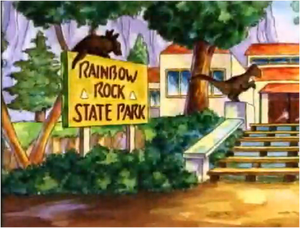 Rainbow Rock State Park is a dinosaur museum and park where people can go to learn more about fossils and how they were created. Fossils can even be found in a stream at the park. The hostess is Ranger Ruth. However, the fossils found had to be kept at the park so other people who came to visit could see the interesting fossils. When Mr. Ratburn's third grade class went on a field trip to the park, they participated in the fossil finding activity. Buster found a Dinosaur footprint fossil but decided to bring it home with him because he thought since he found it (although it was actually Arthur who found it) he deserved to keep it. However, Buster started worrying he'd be arrested for stealing a fossil, so he and Arthur returned it and the park. The park had a name plate put up for their find saying, "Discovered by Buster Baxter and Arthur Read."
Areas
Ad blocker interference detected!
Wikia is a free-to-use site that makes money from advertising. We have a modified experience for viewers using ad blockers

Wikia is not accessible if you've made further modifications. Remove the custom ad blocker rule(s) and the page will load as expected.