Ramón Molina
is Vicita and Alberto Molina's father and one of the Read family's new neighbors. He and his family are from
Ecuador
. He owns an Ecuadorian restaurant called Café con Leche. He and his family lived in Yorktown for five years before moving to Elwood City.
He is friends with David Read. They enjoy talking about food and cooking. They were once in a competition (mentioned in Brain Gets Hooked) to see who could set up the best Christmas decorations, and ended up causing a power outage.
Change in appearance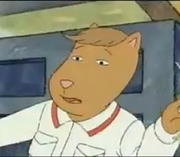 From his first appearance, Ramón's hair has changed color, as shown in "Arthur and Los Vecinos," "Arthur's Snow Biz," and "Bleep".
Appearances
Gallery
References
Ad blocker interference detected!
Wikia is a free-to-use site that makes money from advertising. We have a modified experience for viewers using ad blockers

Wikia is not accessible if you've made further modifications. Remove the custom ad blocker rule(s) and the page will load as expected.