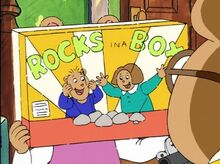 Rocks in a Box is a board game.
History
D.W. wanted to play the game with Arthur, giving him the option to play it or Tower of Cows. D.W. says that this game is exciting and new, featuring real rocks in a real box. "Sue Ellen Gets Her Goose Cooked"
Appearances
Arthur
Ad blocker interference detected!
Wikia is a free-to-use site that makes money from advertising. We have a modified experience for viewers using ad blockers

Wikia is not accessible if you've made further modifications. Remove the custom ad blocker rule(s) and the page will load as expected.