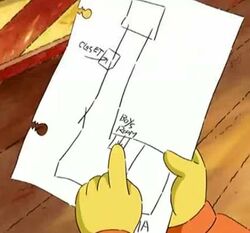 "Silence is Golden" was the Tough Customers' plan to eliminate all music in the world in "Brother Can You Spare a Clarinet?". When Binky's clarinet broke, and his parents could not afford a replacement, he vowed to destroy all music in the world. It ultimately failed.
The Plan
Vandalize the actual instruments
Use the Anti-Music Machine at the janitor's closet

If fails, move to Boy's restroom
If still fails, move to gymnasium
Ad blocker interference detected!
Wikia is a free-to-use site that makes money from advertising. We have a modified experience for viewers using ad blockers

Wikia is not accessible if you've made further modifications. Remove the custom ad blocker rule(s) and the page will load as expected.