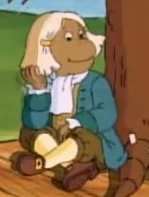 Sir Isaac Newton was a famous physicist, philosopher, mathematician, and astronomer, among other things. He has been referenced throughout the Arthur series:
In "Francine Frensky, Superstar," it is revealed that Francine once played Newton in a play. The part is shown where she (as Newton) discovers gravity.
In "Arthur's Treasure Hunt," Arthur imagined that Sir Isaac Newton's Father limited his scientific work when he was a child due to stop moping around and telling him to expect ideas to fall from the sky.
Newton's cradle, an object named after Newton, has also appeared throughout the Arthur series, especially in "D.W. Beats All."
Ad blocker interference detected!
Wikia is a free-to-use site that makes money from advertising. We have a modified experience for viewers using ad blockers

Wikia is not accessible if you've made further modifications. Remove the custom ad blocker rule(s) and the page will load as expected.