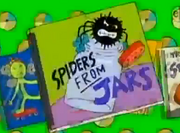 Spiders From Jars is an album that is sold at Disc City. The clerk selected it and other albums when Muffy requested music that "a grimy, skateboarding fourth grader would listen to." "Don't Ask Muffy"
Behind the scenes
It can be assumed that the names is inspired from The Spiders from Mars by David Bowie.
Ad blocker interference detected!
Wikia is a free-to-use site that makes money from advertising. We have a modified experience for viewers using ad blockers

Wikia is not accessible if you've made further modifications. Remove the custom ad blocker rule(s) and the page will load as expected.