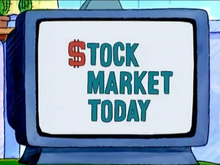 Stock Market Today (stylized as $tock Market Today) is a television show. Its host is Patty Jones. It replaced Mary Moo Cow at the timeslot of 3:30pm. It airs on TV 12 in Elwood City. It talks about the United States stock market, which D.W. finds boring and uninteresting, making her start a petition to attempt to bring back Mary Moo Cow.
Appearances
Arthur
Trivia
Ad blocker interference detected!
Wikia is a free-to-use site that makes money from advertising. We have a modified experience for viewers using ad blockers

Wikia is not accessible if you've made further modifications. Remove the custom ad blocker rule(s) and the page will load as expected.