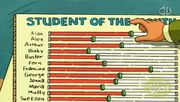 Student of the Month is the award that Mr. Ratburn gives to the best student of the month. The winner gets to have lunch with Thunder McDuff. Francine Frensky was winning, but when Brain pulls ahead, Francine gets him in trouble by framing him for stealing Buster's toy. This contest appears in the episode "MacFrensky."
Ad blocker interference detected!
Wikia is a free-to-use site that makes money from advertising. We have a modified experience for viewers using ad blockers

Wikia is not accessible if you've made further modifications. Remove the custom ad blocker rule(s) and the page will load as expected.