The
Elwood City Dump
is the municipal dump for
Elwood City
. The dump itself does not appear in many episodes, but the trash trucks for the dump are seen passing by in the background in a few episodes.
Francine
's father,
Oliver
, works here as a trashman. In the episode "
Stolen Bike"
, Francine's father built another bike for her out of parts found in the dump. Also in the episode, "
Arthur Cleans Up"
, Oliver gives
Arthur
a tour of the dump's research facility and shows him the technology they use to collect trash. Another reference is in the episode "
Citizen Frensky"
, where
Buster
pushes a button in the garbage truck which empties all the trash into the street. In other episodes Francine is seen washing the truck.
Appearances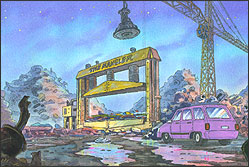 Ad blocker interference detected!
Wikia is a free-to-use site that makes money from advertising. We have a modified experience for viewers using ad blockers

Wikia is not accessible if you've made further modifications. Remove the custom ad blocker rule(s) and the page will load as expected.