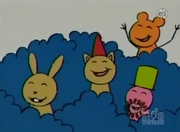 The Wonderful Wizard of Oz (also known as The Wizard of Oz) is a 1900 novel written by L. Frank Baum. It has been adapted into many films and books.
In "Arthur vs. the Very Mean Crossing Guard," Brain references it in one of his plans to avoid crossing the street. His plan is to build a hot air balloon and fly over the street. His drawback is getting blown off course, crash landing in a strange country populated by strange creatures, and having to declare himself "wizard." The drawings shown with these words reference the novel.
Ad blocker interference detected!
Wikia is a free-to-use site that makes money from advertising. We have a modified experience for viewers using ad blockers

Wikia is not accessible if you've made further modifications. Remove the custom ad blocker rule(s) and the page will load as expected.